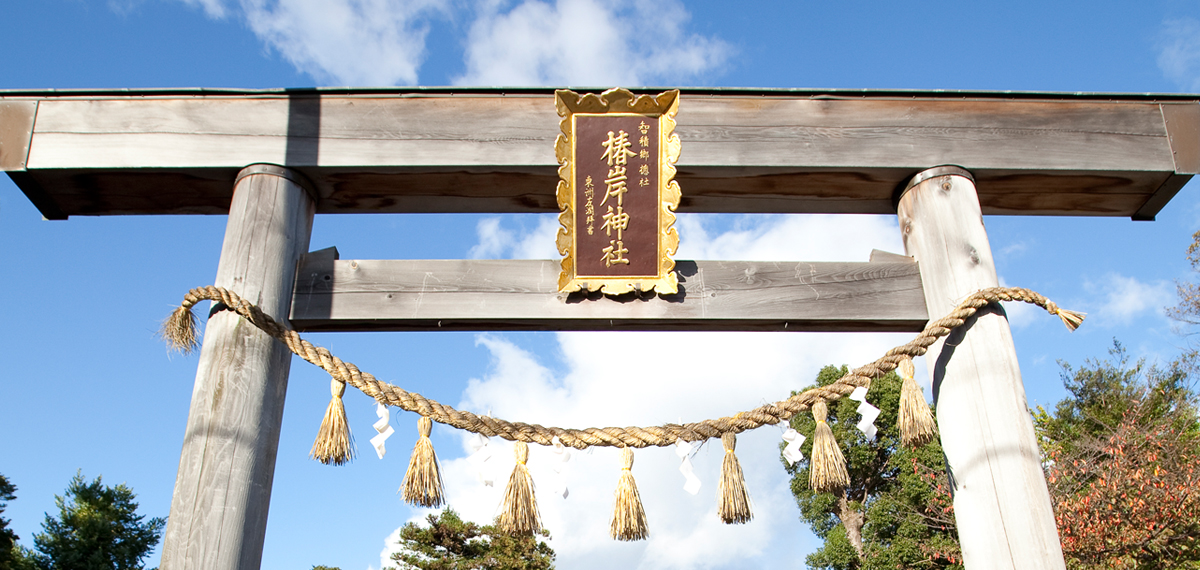 Distinguished History of Tsubakikishi Shrine
Enshrinement place
684 Chishaku, Yokkaichi city, Mie Prefecture, Japan
Worshipped deities
Amanouzume no Mikoto (the celestial goddess in Japanese Shinto)
Sarutahiko Ookami (the leader of the earthly God)
Amaterasu Oomikami (the celestial sun goddess)
Origin of Foundation
A long time ago, when ocean water from Ise Bay entered the Chishaku region and made ripples, our ancestors started life in the highland, called Bouzuo. At that time, they made a pure space, welcomed Ookami (god) who protected their land, and worshipped; that was the origin of Tsubakikishi Shrine. Now that place is called Tsubakio of Aza Kawachigara.
History of Shrine
The water source originated from the Suzuka mountain, River Mitaki and River Yagou brought and accumulated a sediment year by year and the coastline became distant at this area. At that time when Japan held national, many people started to live this area. With few details due to few books surviving to modern day, the local history was found on the old document written in Tenpei 20, about 1250 years ago, stored at Daian Temple in Nara, where there were 60-cho (147 Acre) rice and veggies fields around the Tsubakikishi shrine area.
In this way, the Sakura region was developed, and it thrived in commerce, settled houses, built Chisahkudai temple and became a cultural centre. About 1100 years ago, National appointed a shrine in this area and it shined through the large influence of God.
The time passed, and around 450 years ago, when the long-worshipped shrine at Tsubakio was war-torn, the village was relocated to the east. The shrine became located at the edge of region and distance from the village, and it became inconvenient for holding festivals and visits among village people. The shrine parishioners from 7 districts (Sakura, Chishaku, Isshiki, Mori, Akozu, Ebihara, Hirao) got together and had a meeting. As a result of consultation, the shrine was moved to the centre of the village at the same place as the present location.
Parishioners brought celestial soil from each district, mounded it, planted trees, and built a shrine and moved Ookami (god). Soil texture at the present shrine was gathered from seven districts. Since then, this shrine is called the united 7 districts shrine; the parishioners from 7 districts were venerated even more.
United Shrine of 7 districts
Tsubakikishi shrine was called the 7 districts united shrine long time ago. 7 districts are Sakura village, Chishaku village, Isshiki village, Mori village (Kamori at Komono town), Akatsu village (Akozu), Ebihara village (Kamiebi/Shimoebi), and Hirao village. The Tsubakikishi shrine unites the 7 local gods.
Tsubakikishi Shrine yearly events
Saitansai (praying for the royal family's prosperity, the productiveness of grain and the divine assistance for people)
January 1st
5 am
Adult Day festival (celebration for youth becoming 20 years old)
Dondo Yaki (a fire festival – bring New Year's ornaments in a big bonfire)
January 15th
10 am
National Foundation Day
February 11th
10 am
first Uma's day festival
February the first Uma's day
9 am
Praying for the productiveness of grain festival
February 14th
10 am
New Student festival
April 1st
11 am
New and old representative replacement festival
April 1st
11am
Birthday Festival
May 5th
10 am
Nagoshi Ooharai (summer purification ceremony)
June 30th
5 pm
Summer Festival
July 14th
10 am
Longevity Festival
September 15th
10 am
Memorial Service
September 23rd
2 pm
Annual autumn Festival
October the second Sunday
10 am
753 Festival (celebration for 7, 5 and 3 years old children)
November 15th
10 am
Ninamesai (harvest festival)
November 23rd
10 am
Distribution of Shinto amulet day
December 1st
9 am
The end of year Shinto purification day
December 31st
4 pm
Tsukinamino Matsuri (Praying for peace and security festival)
*1st and 15th of every month
9 am
Notable sites and historic scenes around the Shrine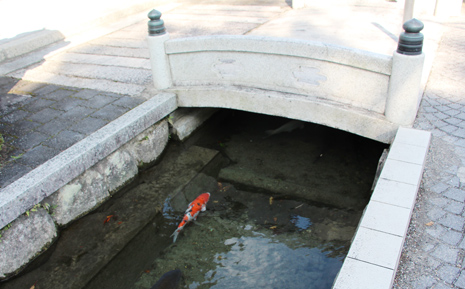 ▪Chishaku Yousui
Chishaku Yousui is chosen as one of the 100 best waters in Japan; local people are proud of the beautiful water where K-+ i swim.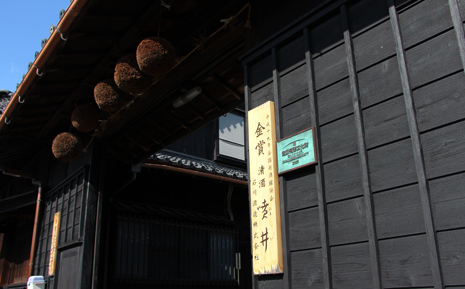 ▪Ishikawa Sake Brewery (Fukii)
The company started Sake brewery in 1831 using agricultural rice tax and one of the sakes called "Fukii" won the Sake's gold medal. Daiginjyo (top quality sake) uses clean spring water from Suzuka mountain range.